Situated directly on the beach frontage, the Harbour car park is an ideal location to start your adventure. 
Harbour staff are in attendance during daylight hours to offer help and assistance.
All revenue is reinvested back into the harbour for its continual upkeep and facility improvements.
Open: 24hrs a day, all year round.
Suitable for: Cars, vans & small campervans.
We accept payment via: Cash, Debit/Credit Card, Contactless, Phone Payments
Blue Badge Holders: Receive an extra hour free on their ticket.
N.B. Camping overnight in vehicles is prohibited in all areas of the harbour.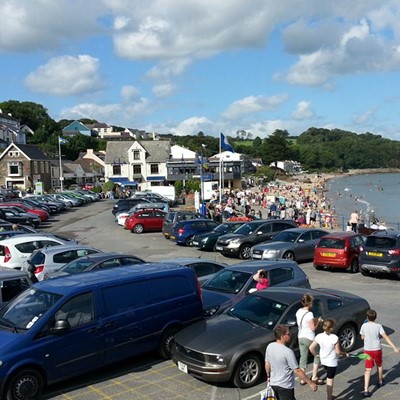 Season Tickets & Flexi Passes
Season Tickets & Flexi Passes for the 1 April 2022-31 March 2023 period have now SOLD OUT.
What are they?
If you regularly use the Harbour Car Park, our Season Tickets & Flexi Passes could be a more cost effective way of parking. Season Tickets can be purchased for individual car registrations, whereas Flexi Passes can be transferred between vehicles and are the best option for holiday lets. Both passes are valid for a year. Please note that these do not guarantee a parking space.
Prices
The prices for the period 1 April 2022 - 31 March 2023 are:
| | |
| --- | --- |
| Season Tickets | £124 |
| Flexi Passes | £298 |
Please note that there will be very limited parking throughout October 2022 due to the World Rowing Coastal Championships and Beach Sprint Finals.
Tickets are issued on a first come, first served basis, and cannot be reserved. Application forms must be received along with payment and a stamped & addressed envelope before a ticket can be issued.
Payment
Payment can be made via bank transfer or over the phone once the application form and a stamped & addressed envelope has been received. A ticket can then be issued once these have all been received. 
If paying by bank transfer, please ensure that you use your vehicle registration as reference. 
Receiving Your Season Ticket
It will take between 10-14 days to process and send out Season Tickets after payment. Please note that there are a limited number available and these are allocated on a first-come-first-served basis. Due to COVID-19, Season Tickets cannot be collected, but will be posted out to you. Please ensure that you have sent a stamped self-addressed envelope to Harbour Office, Marine Centre of Excellence, Saundersfoot Harbour, Saundersfoot, Pembrokeshire SA69 9HE.
Got a question?
Our friendly team at Saundersfoot Harbour will get back to as soon as possible with any queries you have about the new development or regarding the harbour facilities.